On a typical school day, close to half a million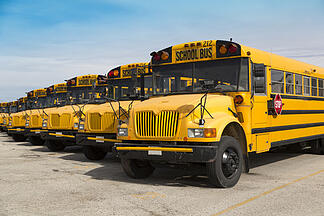 school buses ferry children to and from schools in thousands of communities across the nation. Powered almost exclusively by diesel fuel, the exhaust produced by these vehicles is known to be detrimental to air quality and harmful to human health. Ironically, diesel fumes pose a particular hazard to children, whose respiratory systems are not yet fully developed.
The U.S. environmental protection agency (EPA) has devoted significant efforts towards reducing emissions from diesel engines, and through its National Clean Diesel Campaign (NCDC), is working to promote clean air strategies.
Older School Buses Are Worst Offenders
Estimating that over half of the school buses on the road today have been in service for more than a decade, NCDC reports these older vehicles lack modern pollution controls and emit as much as twice the level of pollution per mile as a semi-truck. By contrast, school buses that meet EPA's updated 2010 standards are as much as 60 times cleaner than pre-1991 buses.
In addition to EPA's tighter emissions standards for newly manufactured diesel fueled vehicles as well as funding provisions aimed at diesel emissions reduction, NCDC advocates for the replacement of older diesel fueled school buses with newer, cleaner vehicles. And newer vehicles equipped with technologies that lower diesel emissions along with other updates such as idle reduction technologies are already having an impact.
However, the opportunity to replace older vehicles with alternative fuel equipment—and replace diesel fuel altogether—is an option that is garnering growing attention, with propane-powered vehicles emerging as clear winners.
Propane-Fueled School Buses Take the Lead
School buses powered by propane fuel or LPG (liquefied petroleum gas), also known as propane autogas, have been on the road for some time now, with a growing track record of impressive results—and with propane fuel offering benefits that include, but also extend well beyond, significant emissions reduction.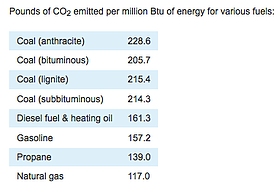 There is no question propane is a naturally cleaner fuel than diesel. In fact, when compared to all other conventional fuels, including gasoline, diesel, and heavy fuel oil, propane has the potential to generate the least amount of green house gas (GHG) emissions, and provide as much as 50% lower carbon monoxide and 25% lower nitrogen oxide emissions as well as the lowest levels of carbon dioxide emissions depending on vehicle model, engine calibration and drive cycle. Additionally, propane itself is nontoxic so unlike other fuels, it is not harmful to soil, surface water, or groundwater.
Fuel & Maintenance Cost Savings
With lower propane costs driven in part by the current shale boom—in stark contrast to current high price of conventional gasoline and diesel fuels—propane fueled school buses offer significant fuel cost savings. In fact gallon for gallon, propane autogas currently costs as much as 40% less than conventional gasoline or diesel while offering comparable driving range to conventionally fueled school buses. When tax incentives are available, savings can be even greater.
Thus, while the purchase price of propane vehicles is generally more than both comparable gasoline or diesel fueled vehicles, the return on investment can happen quickly due savings on fuel costs alone.
Lower maintenance costs offer another substantial area of savings. Due to propane's higher octane rating (104 to 112 compared to 87 to 92 for gasoline), and low-carbon characteristics, propane engines burn cleaner with less corrosion and wear, resulting in longer engine life – and fewer oil changes – than conventional gasoline or diesel engines.
As an added benefit, the fuel's mixture of propane and air is completely gaseous, reducing 'cold start' problems sometimes associated with liquid fuels. And in cases reported by the U.S. Department of Energy (DOE), drivers of school buses burning propane fuel also report quieter operation and higher driver satisfaction.
Abundant Supply, Growing Infrastructure
As a product of both natural gas processing and crude oil refining, U.S. supplies of propane are expected to remain robust well into the future. In fact, according to the U.S. Energy Information Administration (EIA) the United States became a net exporter of LPG for the first time in 2012—and EIA predicts supply will continue to grow through 2040, primarily due to increases in natural gas production from shale well drilling.
By contrast, close to half the petroleum consumed in the U.S. is imported, with almost two-thirds due to its use for transportation purposes according to the U.S. DOE. With a significant portion of worldwide petroleum reserves situated in politically volatile areas, petroleum is vulnerable to both supply disruptions—and unexpected price spikes. Alternatively, fueling vehicles with domestically produced propane is more dependable, reduces reliance on imported oil and increases U.S. energy security.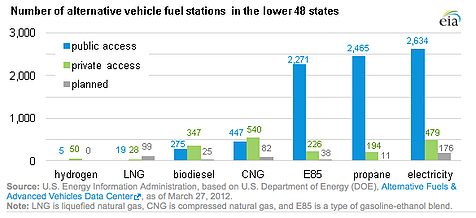 Propane offers the second-highest number of fueling stations compared to all other alternative fuels, with over 90% of stations publicly accessible according to EIA, and the number of new stations continues to grow.
For further convenience, cost and time-savings, fleet operators have the flexibility to install on-site propane fueling infrastructure. On-site fueling systems with high-pressure and flow rate pumps and multiple dispensers can cut fueling time and with on-site storage capacity, fleet owners gain control over supply rate negotiation.
TransTech Energy offers a complete lineup of standard & custom propane autogas dispensers and refueling station systems in addition to pre-built turnkey autogas fueling dispenser skids to get your station up-and-running fast.
Whether adding a propane autogas dispenser to your existing fuel island or building a standalone fueling station, TransTech Energy's engineers can assist you with everything from design to permits and construction.
Learn more about our propane autogas dispensing and fueling infrastructure solutions here.