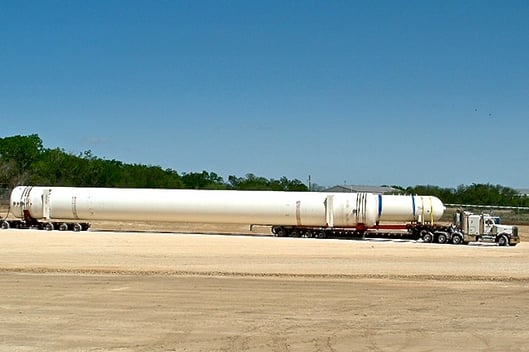 NGL, LPG/Propane Butane Storage Tanks - Heavy Hauling & Delivery Services
Backed by over five decades of experience delivering NGL, LPG/Propane and Butane vessels and equipment to our customers, the TransTech Energy team is uniquely qualified to offer expert support across every stage of your project, including all aspects of delivery.
Our select network of haulers includes some of the most experienced heavy hauling companies in the business, offering the right equipment for loading and transporting overweight and oversize loads.
Utilizing specialized trailers specifically designed to haul loads exceeding standard dimensions or weights, you can depend on the safe, efficient delivery of your tanks and equipment - on budget and to schedule.
Let us handle all the details of your next storage tank delivery—or your complete plant or terminal. We'll determine the best trailer for the job and address all required permits from cities, counties, or states through which your tanks and equipment will be traveling.
End-to-End Project Execution
We have the expertise to handle every aspect of your project - from preparing, loading, freight and delivery to complete installation of all your tanks and equipment, including startup and commissioning.
TransTech Energy will give you the distinct advantage of dealing with a single source for all your project needs. We bring considerable experience in orchestrating all phases of delivery, installation, commissioning and startup—making the entire process completely seamless and fully transparent.
Contact Us
Contact us today at 254-840-3355 or complete the form to request an installation quote for your storage tanks or equipment.