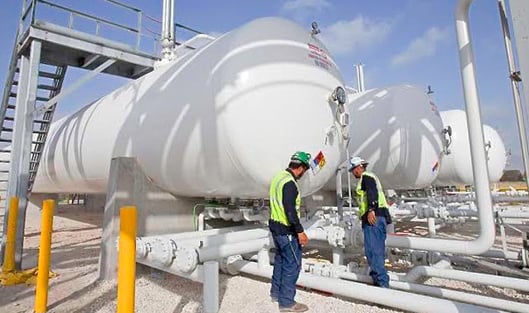 TransTech Energy provides comprehensive preventive maintenance and facility management service packages—with scheduling tailored to minimize disruption to your business—to provide you with consistent, safe, and trouble- free operation of your single and multi-tank bulk plant facilities.
We also provide a full range of emergency bulk plant repair services that will return your plant to full function in minimal time.
Bulk Plant Maintenance - Why It's an Imperative
While you may take your bulk storage and transfer equipment's operation for granted, it's crucial to service and maintain your bulk plant to make sure it is ready to perform the next time it's needed.
The best time to perform service and preventive maintenance on your facility is while it is still operational… BEFORE a critical system fails.
Can you answer "Yes" to these questions?
Are your pumps and compressors operating efficiently?
Are your bulkheads and transfer area valving working properly?
Are the valves on your bulk tank leak free?
Does your Emergency Shut-Down System work the way it should?
Are you still in compliance with NFPA 58 and API 2510?
TransTech Energy's expert, factory trained service personnel can evaluate and maintain your bulk plant to deliver another season of trouble-free operation. By inspecting and repairing potential issues now, you can avoid downtime, emergency repair headaches and unexpected costs—and lost revenue. Our maintenance programs pay for themselves with improved operating efficiencies —and help eliminate any downtime from future equipment failures.
Our Program Covers All of This and More:
Inspect Storage Tanks – Valving, Gauges, Labeling, Piers
Inspect Pumps and Compressors – Performance, Bypass Valve, Belts
Bulk Head/Stanchions – Hoses, Acme Connections, Valving
Overall Inspection – Leak Check Piping, Pipe Supports, Operation of Emergency ShutDown System
NFPA 58 Compliance
Vaporization and Synthetic Natural Gas Systems – Check Operation, Verify Mixed Gas Quality, Adjust Regulators
Call us today for a Free estimate. We'll provide a comprehensive inspection of your facility and specify an annual maintenance program tailored specifically for your operations and equipment.
Speak with one of our LPG bulk plant maintenance service and repair experts now at: (888) 206-4563