NFPA 58 Requires Strict Compliance for all LPG Storage Plants & Terminals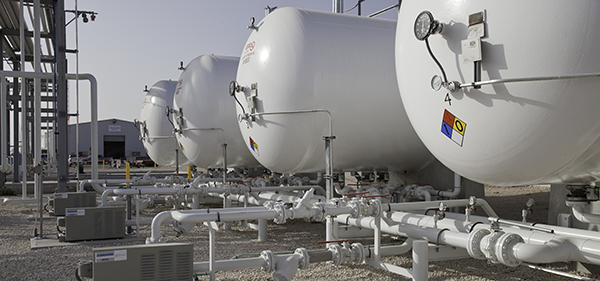 The National Fire Protection Association (NFPA) sets industry codes and standards for the safe storage, handling, transportation and use of liquefied petroleum gas (LPG) gas. The association regularly publishes its benchmarks and updates in its NFPA Pamphlet 58 (NFPA 58) handbook, available via the NFPA website.
By following NFPA 58 codes, LPG producers, distributors and users can ensure the safety of their tanks and installations by mitigating associated risks including the prevention of tank and equipment failures, tampering and leaks, as well as potential fires and explosions.
Topics covered by NFPA pamphlet 58 include the design, construction, installation, and operation of LPG Gas systems including:
Piping
Equipment and ASME containers
LPG gas liquid transfer operations
Venting
Transportation
Storage of cylinders awaiting use, resale or exchange
Distribution facilities
Marine shipping and receiving
Maintenance
And more
TransTech Energy is an authority on code compliance, with more than five decades of experience helping our customers achieve safe, reliable operations. As a voting member of the NPGA Technical and Standards Committee, TransTech Energy contributes to NFPA code amendments including interpretation and technical updates to help ensure current code reflects the changing needs of the industry.
If your facility is in need of compliance upgrades, or if you aren't sure if your current operations are up-to-date, we can help.
As the nationwide partner of many national propane marketers, as well as some the country's largest manufacturers, we have safely completed NFPA 58 compliance inspections and upgrades for thousands of tanks.
We work hard to minimize disruptions to your day-to-day operations, and we have the people, equipment and know-how to ensure work is done safely and on schedule.
Contact us today to learn more: (+1) 888.206.4563


Update Notice: Upcoming requirement for the 2017 edition of NFPA 58
Will require the use of a passive shut-off when a plant/facility provides the hose for the unloading of MC330/MC331 Transports
Must be able to stop the flow of product within 20 seconds without human intervention in the event of a complete hose failure
Compliance can be accomplished using mechanical, pneumatic, or electronic device or any combination thereof.