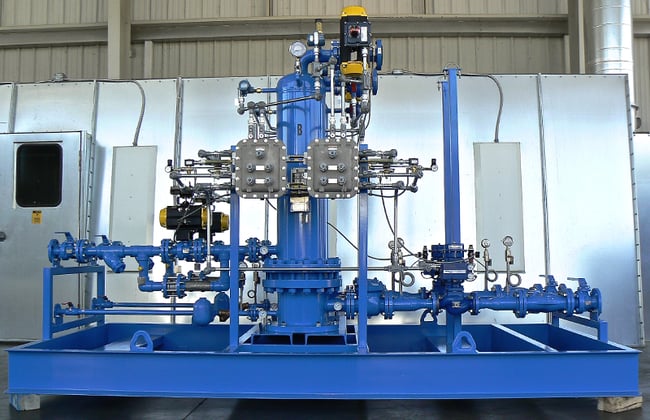 Vertical Steam Vaporizers
TransTech Energy offers a comprehensive lineup of 'best in class' of vertical steam/hot water vaporizers for vaporizing liquid propane/LPG and butane in volumes that support robust commercial, industrial and utility gas consumption operations. Available in standard capacities from 55 GPH (gallons per hour) to upwards of 20,000 GPH, units deliver a reliable, economical source of LP-gas vapor to support a broad array of applications.
Our freestanding and skid mounted, self-contained units are pre-wired, pre-piped and installation-ready for connection to your propane/butane liquid inlet, compatible electrical supply and gas outlet.
Vertical steam vaporizers use preheated steam, hot water or other high temperature gas as the heat source for vaporizing liquid propane/butane. Utilizing either steam from a dedicated boiler or saturated process steam, vaporizer units deliver efficient heat transfer and precise temperature control. Delivering consistent pressure and combustion, our vertical steam vaporizers ensure a continuous, dependable gas supply—and uninterrupted operations.
Manufactured in strict accordance with the latest edition of NFPA 58 and NFPA 70 and the American Society of Mechanical Engineers (ASME) Section VIII, Div. 1 Boiler & Pressure Vessel Code, we stand behind every vertical steam vaporizer we deliver— and you can rest assured in the safety and reliability of your LP gas/butane gasification system.
All units are ASME "U" stamped and National Board Registered.
End-to-End Services
Vertical steam vaporizers are available to order, with everything you need for seamless integration.
We also offer comprehensive services to address every aspect of your vertical steam vaporizer project. From design, engineering and testing to delivery, installation and startup, let our expert team simplify your acquisition process – one point of contact, one invoice.
Vertical Steam Vaporizer Features include:
For propane/LPG, butane
Capacities from 200 GPH to 14,000 GPH
Compact footprint
Flanged hot-water inlet with temperature regulator
Steam temperature regulator
Temperature gauges
Steam inlet and outlet
Steam back check valve
Steam trap
Heavy ends separation chamber to prevent regulator clogs & protect downstream equipment
All required wiring, controls, and electrical components
Heavy-duty galvanized steel & other materials available
Powder coated cabinet
Liquid carryover protection
Programmable logic controller & operator interface
Explosion proof enclosure at the vaporizer for emergency start/stop
Designs available for extreme weather with proven performance at -50° F
Operating manuals
UL stamped external relief valve
NFPA 58 and/or NFPA 70 compliant
ASME "U" stamped
Conforms to ASME Section VIII, Div. 1 Boiler & Pressure Vessel Code
National Board registered
Options Include:
Remote monitoring & operation
Portable skid integration
Push-to-prime feature for cold-start
Walk-in control room
Control room a.c. and/or heating
Integration with LPG air mixers for peak shaving, standby, and base load systems
LCD Display screen
Touch-screen operator interface
Multi-language operator interface
Backed by more than five decades of experience, our dedicated team of LP vaporization experts can review your LP gas requirements and make recommendations to help you achieve your objectives—and accommodate your budget.
Contact us today to speak with one of our LP vaporization experts at: 888-206-4563


Explore our related products and services