Infrastructure & Equipment Requirements from Wellhead to Burner Tip

Long considered a by-product of natural gas production and crude oil refining, liquefied petroleum gas (LPG) is coming into its own. With little fanfare, the U.S. became a net exporter of LPG for the first time in 2012 according to the U.S. Energy Information Administration (EIA), as a result of the U.S. shale boom.
Contributing to continuing growth are both abundant supplies and a growing, worldwide interest in LPG as a low-cost, clean burning fuel. Add to this the improved efficency of gas turbines relative to those driven by diesel and fuel oil and it comes as no surprise EIA predicts the U.S. will continue to be a net exporter of LPG through 2040.
The Appeal of LPG for Power Generation
When vaporized and mixed with air, LPG becomes synthetic natural gas (SNG, also known as propane-air), with combustion characteristics that are nearly identical to those of natural gas. As such, LPG can be burned in place of natural gas—using the same burners and equipment.
And because propane is efficiently transported as a liquid (liquefied petroleum gas or LPG) via marine, truck or rail, in contrast to the significant infrastructure demands associated with transporting natural gas, its use can be readily implemented—at virtually any location.
This makes LPG an ideal choice for rural and other remote, off-grid locations lacking access to natural gas pipeline infrastructure—or as a 'bridge fuel' in areas where natural gas is expected in the future, but not yet available.
Emerging Markets - Increasing Demand
A growing source of demand comes from emerging markets in Latin America and the Caribbean- including Central America, Panama and Puerto Rico, where electrical power is often produced by oil-fired generators burning diesel and heavy fuel oil.
With most major manufacturers of gas turbines and gas engines for power generation promoting LPG and natural gas systems in many of these areas, the conversion of base load power production from diesel and fuel oil to LPG has taken hold as a way to lower energy costs while promoting lower carbon emissions.
Clean-burning LPG is also an obvious choice for decentralized, distributed power generation models and combined heat and power (CHP) applications, offering an environmentally friendly, economical alternative to conventional fuels, that can be implemented far more quickly and at lower cost—delivering ROI within highly desirable time-frames.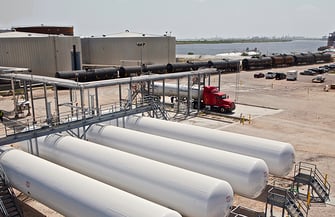 LPG – The Road to Market
The trail from LPG production to burner tip begins with the treatment of NGLs, following their separation from either natural gas (methane) or crude oil during natural gas processing and crude oil refining processes.
Once LPG components, propane and butane, are separated from the NGL mix, they are transported by truck, pipeline and rail to bulk LPG storage and transfer terminals that can accommodate large gas volumes.
From there, LPG destined for emerging markets in Latin America and the Caribbean, including Central America, Panama and Puerto Rico and other regions, will again make its way via truck, pipeline and rail to LPG export terminals where it can be transferred to specialized LPG gas carrier ships and barges with pressurized cargo capacity, ready for marine transport.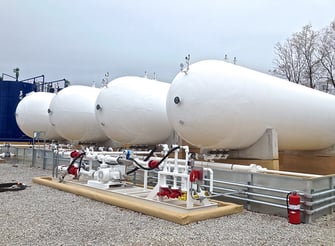 From Import Terminal to Burner Tip – Supporting LPG Fired Power Turbines
Once LPG cargo arrives at its destination, the job of unloading the pressurized gas and transferring it to intermediary storage facilities is performed at LPG import terminals.
From there, LPG can be readily transported to virtually any location, via truck, and by rail or pipeline systems where they exist.
LPG is unloaded from trucks and other transport modes via liquid transfer systems to on-site storage facilities where it can be held in bulk until it is ready to be fed into power generation systems.
For all power applications, LPG must be vaporized and/or converted to synthetic natural gas (SNG) prior to being fed—under extremely high pressure—into power generating turbines.
LPG gasification systems must maintain specific flow rates, pressure and temperature settings in order to achieve the strict specifications required by power generation turbines and boilers.
LPG Power Generation - Infrastructure & Equipment
TransTech Energy delivers all the LPG infrastructure and equipment required for LPG burning turbines in emerging markets and other remote or island locations— from receiving LPG at the point of import, to storage, delivery and LPG gasification for power turbine consumption.
Our capabilities also include all aspects of design, engineering and construction of LPG marine import/export terminals in addition to bulk storage, truck and rail transfer terminals. Additionally, we offer solutions for every aspect of LPG loading/unloading – from portable transfer skids to large truck and rail loading/unloading systems.
We're also a leading source for LPG transport trailers, LPG vaporizers and SNG blending systems as well as high pressure LPG pumping systems—and everything else needed to deliver LPG for any power generation application.
Also offering one of the largest inventories new and used ASME LPG storage vessels in the U.S. as well as custom LPG storage vessel fabrication services for tanks up to 120,000 gallons and more, there is virtually no aspect of LPG value chain we don't support!
Learn More:
LPG Storage & Distribution Solutions
LPG Storage Tanks & Infrastructure