Early Adopters Consider LPG/Propane Bridge to Ethane Power Generation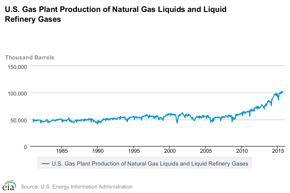 Over the past several years, advanced drilling and hydraulic fracturing technologies have led to rapid growth in onshore natural gas production, resulting in the related surge of associated natural gas liquids (NGLs) output.
According to the U.S. Energy Information Administration (EIA), this growth has included an unprecedented increase in the U.S. ethane supply, which constitutes as much as 40% or more of the volume of NGLs extracted during natural gas processing. As would be expected, higher output has also led to notable price declines.
Ethane Spurs Capital Investment
Primarily used as feedstock for the production of ethylene, a building block for a broad range of plastics and other industrial materials, the expected continuing abundance of low-cost ethane has led to a substantial increase in investment in U.S. ethylene cracking capacity. In particular, investment soared from early 2001 to mid 2013 when growth in natural shale gas production peaked according to EIA.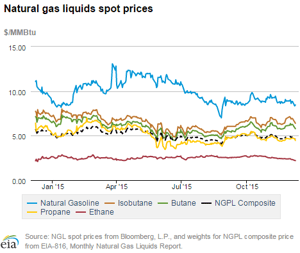 Five major projects, including facilities currently being constructed by ExxonMobil, Dow, Chevron Philips, OxyChem/Mexichem, and Sasol, in addition to one from Formosa which has already received permitting approval according to EIA, will, together with capacity expansions at existing plants, expand U.S. ethylene production by 40% to a total of over 37 million metric tons—accounting for an increase equal to more than a fifth of today's global ethylene production capacity.
However, due to the complexity and expense of these facilities, plants currently under construction are not expected to come on line until the 2017-2018 time frame.
Indeed, U.S. purity ethane was exported to Canada in May of last year for the first time in 25 years according to EIA, due the inability of U.S. petrochemical facilities to keep pace with newly abundant supplies.
To this end, coming pipeline and waterborne projects are also in the works. And in addition to new terminals, a growing ship fleet capable of transporting ethane at requisite pressure and temperatures are expected to allow for higher quantities of domestically produced ethane to reach international markets, according to EIA.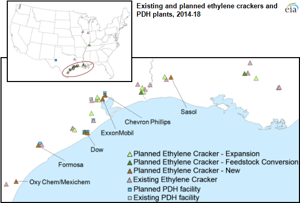 A sea change is certainly in the making, but it may extend beyond the ethylene story. The perfect storm of abundant ethane supply combined with these production and distribution expansions has also set the stage for ethane's potential movement into the power sector.
Ethane as Fuel for Power Generation
Ethane is characterized by a heat content of 1,770 British thermal units per cubic foot (Btu/cf)—over 70% more than methane, which delivers 1,010 Btu/cf. This means significantly more Btu's of ethane can be stored in the same volume as compressed natural gas.
And like propane and natural gas, ethane also offers a more clean burning profile than coal, crude oil and diesel.
Once the facilities exist to make liquefaction and transport of ethane more viable, its use as fuel for power generation may become an attractive choice. Particularly in remote areas and island nations where decision makers are already making plans to move away from more costly, emissions heavy fuel sources, ethane may well garner attention.
As more and more existing power plants are updated from legacy fossil fuels such as coal, fuel oil and diesel to take advantage of today's low natural gas prices, owner operators are stepping up to modern systems that can be powered by multiple gas fuel options—an important factor that opens the door to ethane-as-fuel, with very little friction.
For example, in cases where power plants are located off the grid today, but the arrival of natural gas infrastructure is expected in the future, many owner operators are already updating to natural gas turbines today and using liquefied propane gas (LPG) as a bridge fuel until infrastructure arrives.
When propane is mixed with air, the resultant synthetic natural gas (SNG) can be used to power the same gas turbines that will eventually burn natural gas fuel. And clean burning, low-cost LPG is a natural choice for plant owners looking to not only cut costs, but also address new and upcoming environmental regulations, while positioning facilities to accept future natural gas supplies.
Once ethane becomes a logistically more viable fuel source, the option to blend liquefied ethane to similarly mimic natural gas opens the door to its use as both a primary fuel and bridge fuel in its own right. While new nozzles and other minor updates may be necessary, the turbines themselves would remain the same for owners choosing to move to natural gas in the future.
Ultimate Fuel Flexibility
In other words, with the proper turbines, owners can not only begin cutting costs today, by moving from legacy fuels to clean-burning propane, but also secure ultimate fuel flexibility for the future when availability of either low-cost ethane or methane makes its way to their territory.
And for those burning propane for fuel—with no intention of ever switching to natural gas—ethane may none-the-less become a second option that can be used to complement or replace propane as desired for those seeking cost-savings opportunities.
LPG Power Generation - Infrastructure & Equipment
Said Mark Wenik, Director of Storage & Transfer Products, "Fuel switching is already delivering outstanding returns in remote markets. One of our most recent Caribbean projects is now delivering LPG fueled power to a global distillery company at a 50% cost savings over their previous diesel fueled operations."

Add Wenik, "Most importantly, these projects are paying for themselves over very short time-frames. In this particular case less than 18 months."
For plant owners and utilities planning for the future, it may be too soon to know the path ethane-fueled power generation will take, but many are keeping an eye on this low-cost, abundant fuel and the opportunities it may hold to be prepared to leverage its potential.
TransTech Energy has provided LPG storage tanks, infrastructure and equipment for more than five decades, for propane fueled power generation applications. From receiving LPG at the point of import, to storage, delivery and LPG gasification for power turbine consumption, we offer storage and transfer solutions at all points along the delivery chain.
TransTech delivers all the LPG infrastructure and equipment required for base-load synthetic natural gas systems, distributed power generation and combined heat and power (CHP), as well as back-up and supplemental power generation solutions to complement power generated from renewable energy sources and as a stand by fuel for natural gas curtailment and other needs.
Our capabilities also include all aspects of design, engineering and construction of LPG marine import/export terminals in addition to bulk storage, truck, and rail transfer terminals.
Also offering one of the largest inventories new and used ASME LPG storage tanks in the U.S. as well as custom LPG storage vessel fabrication services for tanks up to 120,000 gallons and more, there is virtually no aspect of LPG value chain we don't support!
Learn More:
LPG Storage & Distribution Solutions