NGL Storage in Demand
As the U.S. shale boom has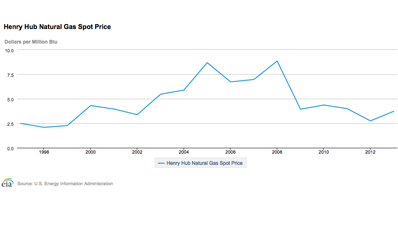 continued to ignite the pace of natural gas production, high output levels have led to notable natural gas price declines.
At Louisiana-based Henry Hub—the established pricing indicator for the overall U.S. natural gas market—the average spot price of natural gas in 2005 was $8.69 dollars per Million Btu (MBtu), according to the U.S. Energy Information Administration (EIA). Just five years later, in 2010, it was down to $4.37/MBtu. And by 2012 it had reached a low of $2.75/MBtu.
Although more recently the spot price has edged upward—$4.05/MBtu, as reported by EIA in June of this year—this has done little to erase the substantial declines from earlier levels and natural gas producers have decidedly suffered from reduced profit margins. To counterbalance this effect, producers are increasingly targeting liquids-rich areas of supply, reaping the rewards of high value natural gas liquids (NGLs).
NGL Production Growth Accelerating
While raw natural gas is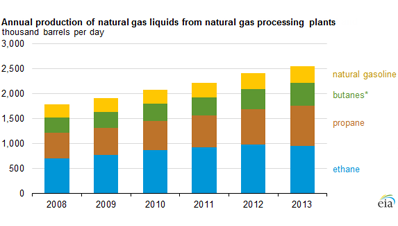 predominantly composed of methane, it can also include a mixture of other hydrocarbon compounds including propane, ethane, butane, isobutene and pentane. These compounds are separated from the natural gas stream at gas processing plants through absorption, condensation and other methods.
Collectively known as natural gas liquids (NGLs), once these condensates are isolated, they can be sold on their own as inputs for petrochemical plants, as fuel for heating and power generation, and/or can be blended into automotive fuels.
All NGLs compete on some level with crude oil and it's derivatives, primarily normal butane, isobutane, and natural gasoline. For this reason, higher crude oil prices tend to positively influence the value of NGLs.
Most recently, the natural gas plant liquids (NGPL) composite spot price (which provides an approximate value for NGL yield at natural gas processing plants) has been hovering midway between the West Texas Intermediate (a benchmark for crude oil pricing) and natural gas spot prices, putting NGLs at a marked price premium over natural gas, according to EIA.
As a result, the rate of natural gas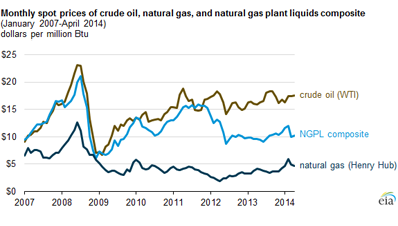 production with high NGL content, commonly referred to as 'wet gas', has been growing more quickly than that of dry natural gas production. Indeed, data published by EIA earlier this year shows the volume of liquids culled from wet natural gas was equal to 5.2% of the total volume of marketed natural gas production in 2013, up from a low of 4.5% in 2008—and reached a new monthly production record of 5.5% in September of 2013.
Overall, the volume of liquids extracted at natural gas processing plants have grown at an average of 7% annually from 2008 to 2013, with current levels of production at an all-time high according to EIA data.
NGL Storage, Processing & Distribution Strained
The momentum of NGL production growth has led to growing concerns over storage, processing and distribution constraints in coming years. And to combat limited supplies and swelling demand, service providers and suppliers are responding.
"Within the shale gas boom, there is an NGL boom unto itself,' said Jeff Berlin, Chairman of TransTech Energy. Added Berlin, "Producers targeting NGLs have unique concerns within the market—and the current levels of growth come with their own host of issues. We've positioned ourselves to be a valuable partner to producers as this market continues to expand and evolve."
TransTech Energy has been
building out NGL and condensate storage, processing and transfer capabilities to meet with growing demand. As a leading supplier of new and used NGL and condensate storage vessels—with one of the largest inventories in the country—TransTech Energy is ready to meet the growing needs of upstream producers.
Our skid-mounted storage and transfer solutions can solve storage and distribution issues resulting from rapid production growth—fast. And our end-to-end offering of transport, custody transfer, metering and inventory management solutions can be specified to suit operations of any scale.
We also offer custom process vessel fabrication for a broad range of applications including 2- and 3-phase separators, slug catchers, condensate strippers, surge tanks and more.
Learn about our new, used and custom fabricated NGL storage vessels here.
Learn about our NGL process vessels here.
View information about slug catchers, two-and three-phase separators, condensate strippers, surge tanks here.
Learn about our loading/unloading and custody transfer solutions here.