Mexico's Production Declines Lead to Energy Reform
Among the world's largest producers of petroleum and other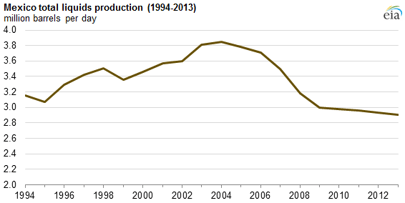 liquids, and the fourth-largest producer in the Americas, Mexico is an important partner in U.S. energy trade. Indeed, for years, crude oil imports from Mexico to the U.S. grew virtually every year—by hundreds of thousands of barels per day—as noted by the U.S. Energy Information Administration (EIA)
At its height in 2004, Mexico was reported to be the world's ninth largest oil producer and the value of crude oil exports from Mexico to the United States had soared to $35.7 billion according to EIA, with its export volume having more than doubled since 1992.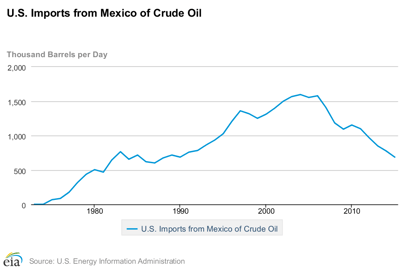 But as explained by EIA, following 2004 Mexico's domestic oil output suffered rapid and steady erosion due to significant production declines from its large offshore sites, most notably it's massive Cantarell Field which contributed as much as 63% of Mexico's overall oil production at its peak.
By 2012, Mexico's exports to the US had fallen to .97 bbl/d from 1.59 million in 2004, and marking the first time its exports fell below 1 million bbl/day since 1994.
In an effort to counter these declines, the Mexican government enacted substantial constitutional reforms in 2013, eliminating laws that had previously prohibited direct foreign investment in the nation's oil and natural gas sector.
Effectively ending the decades old monopoly of state-owned oil producer, Petroleós Mexicanos (PEMEX), the move had immediate and major implications for the future of Mexico's energy profile—and for it's trading partners.
The LPG Opportunity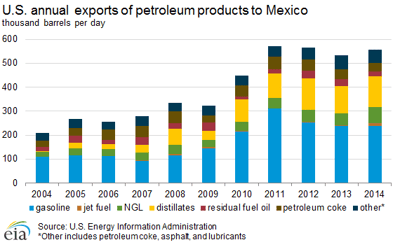 Despite its position as crude oil exporter, Mexico is a net importer of refined petroleum products, including primarily gasoline, diesel—and liquefied petroleum gases (LPG/Propane)—all of which fall under the umbrella of the new legislation.
Until recently, propane distributors wishing to import U.S. propane into Mexico would purchase the gas in the U.S. and then transport it to the Mexican border, where they would be required to sell it to PEMEX in order to bring it into Mexico. They could then buy it back from PEMEX after it had been imported into the country.
The suspension of these import restrictions began in January of this year, allowing private companies to now import their own products rather than being required to go through PEMEX.
Despite this step forward, authorities still currently regulate propane pricing. However, price controls will also be eliminated in 2017, allowing pricing to be determined by market forces.
Low-Cost Propane, Strong Supply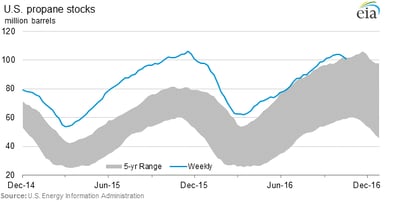 In contrast to Mexico's declining production of petroleum and other liquids, U.S. propane production has remained strong, with current propane inventories historically high. Meanwhile, U.S. propane prices continue to hover at favorably low levels.
If the current LPG market conditions hold, Mexico's reforms present an ideal environment for those wishing to import LPG to Mexico—whether it be private, Mexican owned entities or foreign companies, both of whom can now participate in the full supply chain.
With initial reforms already underway and price deregulation on the horizon, those vested in supplying Mexico with propane are already expanding needed infrastructure to facilitate the movement of U.S. propane to Mexico, with investment being directed towards expanding midstream transportation and storage infrastructure in both the U.S. and Mexico.
"Rail shipments are already being used to transport LPG to transloading facilities on the U.S. side of the border. Here LPG is transloaded to LPG transport trucks for shipment to Mexico." Said Mark Wenik, Director Storage & Transfer Products.
Added Wenik, "As volume commitments increase inside of Mexico, we see significant transportation and interim storage interest, and corresponding large scale terminal development taking place. TransTech can support the entire process, from small volume transloading to small scale truck and rail terminals, to large scale terminals and even all the way down to the expanded burner tip applications as LPG applications increase inside Mexico—everything from residential to industrial to large scale power generation."
Truck, Rail & Marine Terminals
TransTech Energy's turnkey and custom LPG truck and rail terminal solutions readily support overland exports. Our terminals facilitate the unloading of incoming liquefied gas supplies from rail deliveries; provide intermediary bulk storage; and support MC331 truck transport loading operations for further distribution down the supply chain.
For importers interested in supplying Mexico by water, TransTech Energy delivers turnkey and custom marine terminals to support waterborne import. Our marine terminals facilitate rapid unloading of incoming ship and barge deliveries; provide large volume intermediary bulk storage; and support MC331 truck transport operations.
Prefabricated, modular construction options offer fast implementation and proven designs while scalable storage capacity helps to maintain supply, mitigate risk—and support expansion.
Learn more about our terminal solutions here.
Transloading Solutions
In addition to its large scale terminal solutions, TransTech Energy offers a complete line of solutions for transloading operations of any scale, from simple pump skids to fully equipped custody transfer systems, portable transloading platforms and more.
Learn about our transloading solutions here.
See our line-up of best-in-class pumps & compressors here.
LPG Power Generation
Liquefied petroleum gas (LPG, Propane) is fast becoming the fuel of choice for power generation in rural and other remote, off-grid locations, in lieu of its less environmentally friendly counterparts such as diesel, coal and fuel oil.
Learn about our LPG/Propane Power Generation Solutions here.
LPG/Propane Storage
TransTech Energy is also a leading supplier of LPG/Propane storage infrastructure, tanks and equipment. Learn more here.