Smart E&C's Planning Ahead to Meet Demand
As the shale boom continues to fuel exponential growth in natural gas exploration and production, engineering construction entities (E&C's) are racing to expand midstream pipelines, gathering systems and processing facilities to keep pace with production and connect new areas of supply to markets.
Preceding the shale boom, most domestic gas supplies were located in close proximity to existing pipeline infrastructure, but today's production landscape is vastly altered and investments are increasingly needed to connect newfound gas resources with processing facilities and wholesale markets.
In conjunction with current pipeline deficits, the sheer volume of today's growing hydrocarbon outputs has processing plants and storage capacity strapped.
Mismatch Between Production and Infrastructure
According to the U.S. Energy Information Administration (EIA), as the shale boom has continued to take hold, domestic gas production has been steadily outpacing new additions to both pipeline capacity and processing facilities.
As an example, the amount of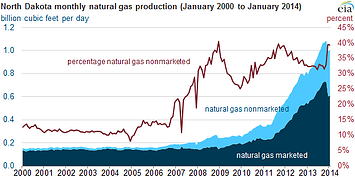 nonmarketed natural gas output from North Dakota's portion of the Bakken Shale formation rose to an average of .31 billion cubic feet per day (Bcf/d) in 2013—almost double the 0.16 Bcf/d levels reported in 2011.
Despite the fact some reports point to an overall decrease in North Dakota's nonmarketed gas output as a percentage of total production, significantly more natural gas is going unmarketed today than in previous years—the bulk of which is flared into the atmosphere—due to overall higher output in conjunction with lacking pipeline, processing, and storage infrastructure.
As reported by EIA, as the number of wells has continued to climb, natural gas infrastructure surrounding the Bakken shale play has simply not kept pace with production, effectively stranding natural gas in its place.
In a related report, one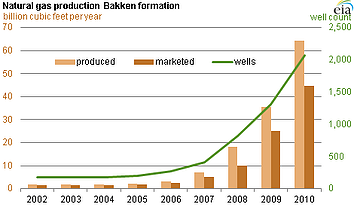 North Dakota county was able to lower its flaring activity by more than 60% between December 2008 and the same month the following year—simply by adding two natural gas processing plants and expanding associated gathering systems.
As summed up by one EIA report, "the mismatch between distribution needs and current infrastructure is becoming hard to miss."
U.S./Canada Need $30B per Year for Midstream Infrastructure
In fact, according to a recent report published by the Interstate Natural Gas Association of America (INGAA), an annual average investment close to $30 billion per year, or $641 billion total will be needed for North American natural gas, crude oil and natural gas liquids (NGLs) combined midstream infrastructure expansion over the upcoming 22-year period, from 2014 to 2035.
Of this sum, it is calculated that roughly $14.2 billion per year will be needed for midstream natural gas infrastructure to accommodate new gas supplies and support increasing demand for gas in power generation and other areas.
This amount includes approximately 43 Bcfd (billion cubic feet/day) in new gas transmission capabilities—which is inclusive of close to $9 billion for new or expanded gas and liquids mainline capacity, more than $3 billion for new oil and gas gathering lines, and more than $2 billion per year for new laterals—in addition to approximately 35 Bcfd of new gas processing capability (approximately $1.0 billion per year), according to INGAA.
Processing, Storage Vessel Capacity Strained
With current momentum expected to continue driving the need for additional infrastructure well into the next two decades, demand for related gas processing, and NGL, related hydrocarbons, and condensate storage vessels is expected to simultaneously climb.
To combat tight supplies and steep competition, more and more project leaders are preparing for ongoing growth by planning related investments ahead.
Said Jeff Berlin, Chairman of TransTech Energy, "The combination of today's strained capacity combined with the need for ever shorter lead times, has turned the pressure up on suppliers. To accommodate today's market, we've made heavy investments in fabrication capacity in order to build out our ongoing supply and ensure systematic delivery of new vessels to help E&C's meet their project demands."
Added Berlin, "Centralized E&C's are increasingly working to forecast customer demand and place advance orders now in order to have off-the-shelf solutions as needed. We're well-positioned to continue to build capacity to meet steady demand for both storage and process vessels—even as the market continues to grow. Of course, advance planning is always the best approach and we can help our customers hit their schedule targets when we sync our fabrication planning to suit their future needs."
TransTech Energy is a leading supplier of new and used ASME tanks and process vessels, with one of the largest inventories of new and used NGL and LPG storage tanks in the country. We offer custom process vessel fabrication for a broad range of applications including 2- and 3-phase separators, slug catchers, condensate strippers, surge tanks and more.
Learn more about our process vessels here.