TransTech Energy, through its newly formed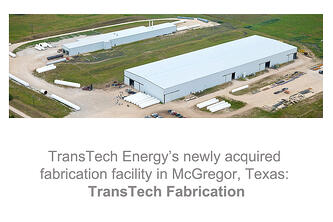 subsidiary, TransTech Fabrication, announced today the acquisition of Tubular Structures International LLC ("TSI"), a leading fabricator of pressure vessels, storage vessels, and processing equipment for the oil and gas industry
"We have enjoyed a strong partnership with TSI for several years." said Britt Medley, President of TransTech Energy, "Our new union will enhance our design, development, and production capabilities and streamline our project management processes to deliver faster time-to-delivery and seamless project execution to our expanding customer base in the oil and gas industry."
Added Medley, "TSI's dedicated team of expert craftsmen combined with its extensive production capacity and unmatched quality standards are an excellent fit with Transtech's leading position in design, engineering, installation, and field services."
Based in McGregor, Texas, TSI is certified by the National Board of Boiler and Pressure Vessel Institute and holds current ASME S, U, U2, U3, PP, and R certifications. Operating from its state-of-the-art 160,000 square foot production facility, TSI utilizes the most advanced equipment for rolling, welding, assembling, handling, painting and finishing large diameter, high-pressure, thick-walled tubular structures. Going forward, TSI and its management team will conduct operations under the name TransTech Fabrication, LLC.
The Acquisition of TSI reflects TransTech Energy's partnership with Bridge Industries, a strategic alliance established in 2013 to support TransTech's growth through strategic acquisition and business development.
The acquisition of TSI significantly increases TransTech's production capacity and project flexibility while positioning the company for future growth through the development of new products and services to serve growing demand. TransTech will continue to maintain its valuable network of existing pressure vessel manufacturers and to invest in people and capital equipment to build upon its strong position supplying storage and handling solutions across the energy industry.
About TransTech Energy
TransTech designs, fabricates, installs and services specialized storage and handling systems for LPG (liquefied petroleum gas) and NGLs (natural gas liquids). With nearly two decades of experience providing infrastructure solutions to the LPG industry, TransTech has expanded its product offering and market reach to support increased infrastructure needs of the rapidly expanding NGL industry. For more about TransTech Energy visit http://www.transtechenergy.com
About TransTech Fabrication
A subsidiary of TransTech Energy, LLC, TransTech Fabrication, is a leading manufacturer of ASME pressure vessels and production equipment, serving oil and gas producers, midstream gathering and processing entities, and downstream distributors and marketers. Situated in McGregor, Texas, the company specializes in large diameter and heavy wall pressure vessels and production equipment and offers end-to-end project execution from design and engineering, through fabrication and test, delivery, installation, commissioning and startup. For more about TransTech Fabrication visit http://www.transtechfabrication.com