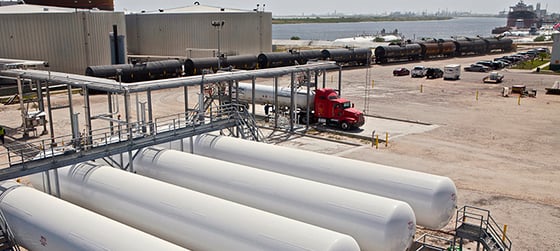 We're pleased to announce TransTech will once again be participating as a sponsor of ILTA's upcoming 39th Annual International Operating Conference & Trade Show, taking place in Houston, Texas - June 3-5, 2019.
Join us in Booth #107 in the Trade Show area where we'll be highlighting our solutions for:
LPG & NGL Storage & Distribution

LPG & NGL Truck, Rail & Marine Import/Export Terminals

Your Choice of Custom or Pre-manufactured, Turn-key Terminal Designs

Terminal Automation Solutions

ASME Storage Vessel Fabrication

Truck & Rail Loading/Transloading Solutions

Portable Storage & Transfer

Engineering & Construction

LPG Power Generation

LPG Storage Infrastructure

Custom and Pre-manufactured, Turnkey Solutions

LPG Gasification Systems

SNG Bridge Fuel to LNG

Industrial Fuel Conversions
Stop by to learn about our 30k, 60k & 90k gallon LPG/NGL storage tanks available for immediate delivery! Orders for 90,000 gallon storage bullets are eligible for a special discount throughout the show! View our tank inventory now!
ASME Storage Tanks - Store & Ship Program
Be sure to ask about our convenient Store & Ship program. Utilizing over 100 acres of on-site storage at our fabrication facility, you can inject new predictability into all your projects. Order all your storage tanks in advance. We'll store them on site until you're ready -- and then ship them to meet your schedules.
Once you're ready for delivery, we can coordinate all your logistics and startup needs including heavy hauling and delivery, installation, startup and commissioning: à la carte or everything on the menu. Just tell us what you need!

We hope to see you there!


FREE

Power Generation Preliminary Project Development Package

Sample P&IDs

Site plan

Projected mmbtu cost for LPG vs LNG

Cost of LPG infrastructure vs LNG infrastructure

Reciprocating gas engine vs. gas turbines infrastructure assessment

Major equipment requirements

More...

Submit Request