Shifting Caribbean Power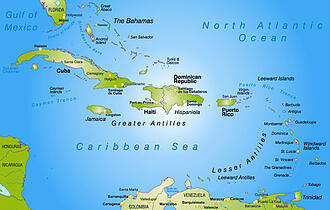 Markets

With the exception of Trinidad and Tobago, where oil production has historically supported a sizeable export business, the Caribbean islands are predominantly net energy importers.
The U.S. Virgin Islands are no exception. With few conventional energy resources, the islands are net importers of energy and electrical power is produced almost exclusively by oil-fired generators burning heavy fuel oil and diesel fuel. The rising cost of crude has caused the territory's electric rates to skyrocket, reaching as much as six times prices on the U.S. mainland—and having a debilitating impact on the cost of power to businesses and individuals alike.
In response, island nations are aggressively seeking alternative energy sources to reign in fuel costs and ease the price of power generation—and the ongoing shale gas boom may hold the key. The related, expected long-term lower cost of natural gas relative to crude oil as well as the improved efficiency of gas turbines relative to those driven by fuel oil and diesel, offer an appealing path for power generation, well into the future.
Other potential benefits include the typically lower maintenance costs associated with gas powered turbines relative to oil powered generators in addition to the smaller carbon footprint associated with cleaner burning natural gas.
And with looming greenhouse gas (GHG) emissions regulations, it is a move that will benefit utilities and large industrial users alike, who stand to achieve huge gains on all fronts by making the switch.
As an example, the Virgin Islands Water and Power Authority (WAPA) recently announced that it will move to liquefied propane (LPG) and then to natural gas as the primary fuel for power generation, a move it anticipates will cut fuel costs by as much as 30%—about $90 million annually—and reduce greenhouse gas emissions by approximately 20%.
Conversion to Natural Gas
Natural gas, which is predominantly methane, can be converted to a liquid by cooling it to −260 °F. The cooling process reduces gas volume approximately 600 times, allowing it to be efficiently transported as 'LNG' (liquefied natural gas) for delivery to remote markets, including island locations. Special cryogenic carriers and cryogenic storage tanks must be utilized to maintain proper LNG temperature until it can be regasified. After regasification, it can be distributed as regular pipeline natural gas.
For power suppliers, switching to natural gas requires the conversion of gas- and diesel-fired power generators to gas-fired units. Provision of natural gas also calls for significant investment in either floating or onshore regasification terminals, storage and other associated infrastructure—which can take years to complete.
Propane-Air/SNG: A Bridge to LNG
As the Caribbean and others ready for abundant availability of low-cost, more environmentally friendly natural gas, an interim strategy gaining favor is the use of synthetic natural gas (SNG), until LNG infrastructure can be built. SNG, also called propane-air, which is produced by mixing propane with air, provides a similar composition to natural gas and can be readily used in its place as fuel for gas-fired turbines.
Because propane, which can be easily pressurized and transported as a liquid (LPG), does not call for the significant infrastructure requirements associated with LNG, its use can be implemented much more readily. LPG is typically filled into storage tanks and cylinders that can be shipped and then delivered via truck or rail directly to end user customers—no cryogenic storage, regasification terminal or pipeline required.
On-site, truck-unloading terminals link LPG to propane vaporization and blending systems to create SNG which is then fed directly into power plant fuel trains.
"Switching to SNG lets island plants convert turbines to gas power now to begin benefitting from lower cost, cleaner burning gas power sooner—while it readies them to accept LNG natural gas once it can be delivered in the future", said Christian Branchi, Director of Engineering and Field Services, TransTech Energy.
Added Branchi, "We're working closely with our SNG equipment manufacturing partners and increasing our regional engineering capabilities to support the increase in activity we're experiencing both in the Caribbean and in Latin America.
Our LPG storage infrastructure business is benefiting from domestic LPG export terminal expansions and we are noticing a similar level of interest in demand for inland LPG terminal side on the import side of the of supply. Fuel switching and fuel bridging will be a focus of our business as we look to 2014 and 2015."


TransTech Energy has been serving the LPG market for over 50 years and offers a full line of LPG storage and infrastructure solutions from LPG storage tanks, to LPG marine and truck loading and unloading terminals, to LPG plant and SNG system installation.
We offer complete, turnkey SNG blending system design and implementation, including engineering design, component delivery, construction, and full testing of your completed system.
For more information about our LPG & NGL storage offerings click here.
For more information about our propane-air Synthetic Natural Gas offerings click here.
Call 1-888-2060-4563 today to speak with one of our LPG storage or SNG system specialists.