Engineered, Designed, & Built for Rapid Returns
Turnkey Project Delivery Saves Time and Money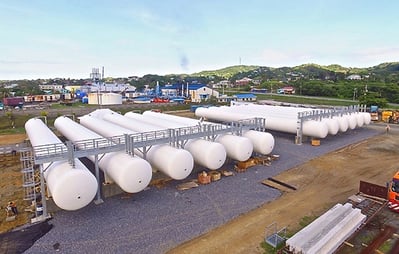 TransTech Energy continues to advance the industry with groundbreaking methods that deliver new efficiencies and rapid project execution—saving clients time and dollars while driving business growth.
The company's newly available, pre-manufactured, modular terminal offerings for the storage and distribution of NGL and LPG (propane, butane and other hydrocarbons) have quickly set a new standard for terminal project execution, leading the market by significantly shortening traditional terminal project delivery schedules.
The Secret to Success
By maintaining its own, state-of-the-art, 160,000 square foot ASME pressure vessel fabrication facility, with ASME, S, U, U2, U3, PP and R certifications, the company has the ability to turn around standard and custom sized vessels of 120,000 gallons or more—to short lead times—a capability other engineering contractors simply can't match.
Specializing in large diameter vessels and prefabricated modular piping solutions, TransTech is known to be one of the most capable ASME manufacturers in the oil and gas industry—offering pressurized liquids storage and handling products built to the highest standards and in accordance with all applicable codes and certifications.
It's no surprise TransTech is a leading supplier of ASME pressure vessels and gas process & production equipment, serving oil and gas producers, midstream gathering and processing entities; as well as downstream distributors and marketers.
Faster Projects – With Legacy Built-in
Backed by more than five decades of experience, TransTech's highly capable, experienced teams are able to offer both standard and custom project delivery, or a combination of standard and custom elements. Our seasoned professionals can evaluate client needs and offer recommendations that leverage delivery models—all while accommodating budget and schedule needs.
By sourcing its own extensive library of proven project designs, TransTech is able to offer an optimal solution whether delivering a standard, custom or semi-custom design.
Roatan Electric Company, Bay Islands, Honduras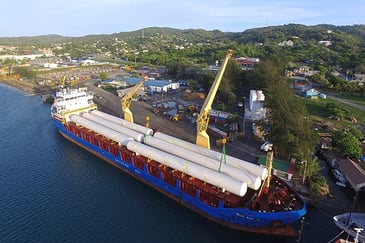 In a recent example, TransTech delivered a modular propane import and storage terminal project for the Roatan Electric Company (RECO).
The 28 MW Power Plant Expansion project, included the installation of four (4) Wartsila W20V34SG reciprocating, propane-fired gas engines in addition to numerous Balance of Plant (BOP) systems to support electricity generation.
Supporting the new operations called for barge and ship unloading/receiving and storage of propane in addition to the required vaporization systems. Plans included the installation of twelve (12), 90,000-gallon liquid propane storage tanks, facilities to unload propane deliveries from ships or barges, and equipment to vaporize the liquid propane to gaseous form for use in the Wartsila engines.
Other project specifications included:
New electrical interconnection facilities, including two (2) sets of control switchgear and two (2) isolation transformers to safely integrate the new electrical generation capacity with existing generation and distribution systems.
A new 200,000 gallon storage tank supply fuel to the existing 17 MW diesel power plant
Secondary containment structures for all petroleum fuels and oils used at the site to prevent the accidental release of these products into the environment.
A new potable water system to support various process water uses including a drinking water supply for the site – with distillation, filtration and purification of both seawater and/or rainwater powered by exhaust heat from the Wartsila
A plant-wide fire water supply and piping system using seawater
Wastewater treatment systems for both sanitary waste and for spill containment areas, with treated, sanitary wastewater feeding landscape irrigation and/or discharged to the ocean.
Three buildings to house the personnel required to operate, administer, and maintain the Roatan Electric Compan
Project Schedule
Conceptual development of the RECO Power Plant Expansion Project started in June 2015. Initial studies of alternative technologies focused on gas turbine generators, either in simple-cycle or combined cycle configurations to maximize fuel efficiency.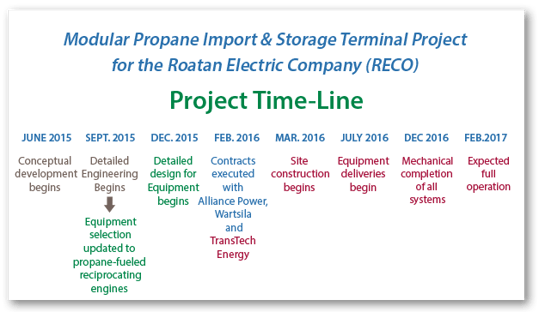 In September 2015, as more detailed engineering began, the high level of operational complexity of combined cycle gas turbine generators and the limited range in electrical output at optimum fuel efficiency led Alliance power to recommend other generating technologies.
Improvements in reciprocating engine fuel efficiency, along with simplified operating requirements and an essentially unlimited range of electrical output led to the selection of propane-fueled reciprocating engines for the Power Plant Expansion Project.
Detailed design for the newly selected technology began in December 2015 with the goal of completing the project by December 2016.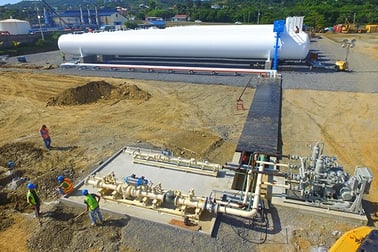 Major contracts were executed with Alliance Power, Wartsila and TransTech Energy in February 2016.
Site construction activities began in March with site preparation and foundation construction for major buildings and structures that included over 300 concrete piles driven to an average depth of 50,000 feet.
Equipment deliveries begin in early July 2016, with mechanical completion of all systems in December 2016—including start-up and commissioning of BOP systems prior to commissioning of the reciprocating engines.
Commencement of operation of engine operations was targeted for December 2016, with full operations anticipated in February 2017.
Construction and Operating Agreements
Agreements for the engineering, procurement, and construction (EPC) of the Power Plant Expansion Project included:Alliance Power, Inc. (Alliance) was contracted for execution of feasibility studies, conceptual planning, and engineering design as well as for project management, project accounting, tracking and documentation, site QA/QC, and overall project coordination.
Wärtsilä was contracted to design and build RECO's power plant facilities including installation of state-of-the-art engines, delivering industry-leading energy efficiency, fuel and operational flexibility.
TransTech Energy was contracted as the EPC for rapid, end-to-end execution of propane storage and handling infrastructure, including pre-fabrication of all related ASME storage tanks and equipment, LPG ship and barge unloading and transfer equipment, interconnected piping, gasification equipment and product monitoring & control systems.
Energy Transfer Equity will be providing a long-term propane supply agreement for the project from it's two world-class LPG export facilities located in Nederland, TX and Marcus Hook, PA.
TransTech's Process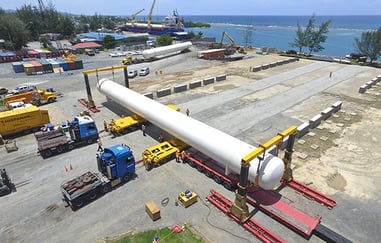 TransTech's pre-manufactured, turnkey terminal designs are based on field-tested, proven projects. Built to the highest standards - to short lead times – terminals are delivered to each client's site, fully tested and installation-ready, with everything needed for rapid installation and startup. TransTech's own field experts can execute installation as required.
A simple step-by-step process makes it easy for clients to specify project parameters and takes the headaches out of project management - one point of contact, one invoice.
1.) Choose from TransTech's proven, turnkey designs - or let TransTech's seasoned team custom design and build your terminal to your exact specifications.
2.) Specify custom vessels - or choose from our broad selection of new and used, in-stock vessels in standard sizes of up to 120,000 gallons.
3.) Select loading/unloading and transfer systems options as needed to suit transportation and transfer needs including rail, MC331 truck transport, bobtail, ship and barge operations.
4.) Specify handling equipment including required valving, instrumentation electronic controls and metering, liquid transfer pumps, pneumatically controlled emergency shutoff valves (ESV's), compressors, remote monitoring, fire safety systems and more.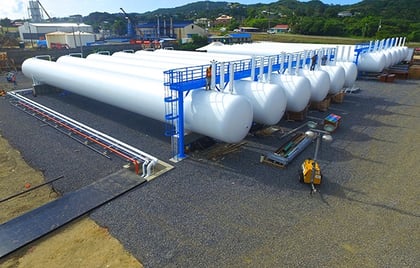 For every project, TransTech prefabricates the client's complete plant off-site - including all tank trim, valving and equipment, piping, loading and unloading provisions including any required pumps, compressors, and custody transfer solutions for rapid on-site execution, reduced field installation costs—and ensure 'no surprises' to disrupt project schedules.
Utilizing its own, state-of-the-art ASME pressure vessel fabrication facility, supplies standard and custom sized vessels of up to120,000 gallons or more—to short lead times—supporting rapid project time-lines competitors can't match.
Contact us today at 1-888-206-4563 to learn how TransTech Energy can help with your next project!
Learn more about our pre-fabricated Terminal Solutions here.