Used vs. New Storage Tanks
The remarkable increase in production of natural gas liquids (NGL) and related NGL purity products resulting from the ongoing U.S. shale boom has led to a surge in demand for related storage capacity, required both at the wellhead and at all points across the delivery chain.
As such, the competition for available used tank inventory—often desired for perceived lower cost—has grown at a record pace, making it more challenging than ever to obtain needed tanks within desirable time-frames. More and more, buyers are turning to newly manufactured storage tanks to fill their storage needs. But is this the best choice?
For decision-makers charged with the responsibility of procuring storage tanks, understanding the pros and cons of new versus used storage tanks—and which route makes more sense for the particular project at hand—will help ensure the right choice is made.
Why Buy Used Storage Tanks At All?
Used tanks have long been a desirable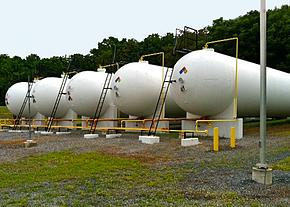 choice for hydrocarbon storage needs. In addition to a typically lower up-front price tag, older tanks are actually considered somewhat safer than newer tanks. This is because the required thickness of tank walls, as dictated by the Federal Government, has been lowered over time in response to the rising cost of steel.
In fact, even considerably older 200 psi U68 and U69 tanks are substantially thicker, offering a higher level of safety over brand new tanks, with regards to certain scenarios.
And certainly purchasing used storage tanks is a more environmentally conscious decision. With sustainability a growing concern around the globe, choosing to recycle existing tanks is a choice that allows a considerable quantity of steel to be reused in its immediate form, without exhausting the energy required to transport, melt down and remanufacture the material into other forms—many times in another country, often only to be shipped back to the U.S., expending even more energy in the process.
Another potential benefit to buying used storage tanks is that in some cases, obtaining used tanks can be done far more quickly than ordering new storage tanks. While used tanks for sale are almost always available for immediate delivery, new storage tanks typically must be ordered in advance and project plan schedules must accommodate the waiting period while tanks are being manufactured.
The Landscape is Changing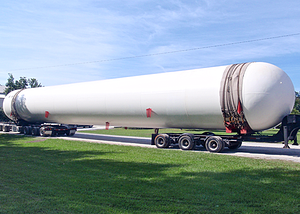 Historically, procuring a used storage tank could almost always be done more quickly than ordering a new tank. With a bit of research and due diligence, a quality used tank in close vicinity to the desired plant site was often easily located.
Today however, while procuring a used storage tank may in some cases still be the fastest way to fulfill tank needs, this is no longer always the case. With the availability of used tanks shrinking, obtaining the desired tank size, within a geographically desirable radius, has become more challenging—particularly when multiple, same-size tanks are needed.
Furthermore, as storage tank manufacturing processes have evolved, the speed at which newly manufactured tanks can be delivered has significantly increased, narrowing the time-frame from order to delivery and making newly manufactured tanks more competitive with used tank inventory. And in some cases, tank specialists now stock quantities of newly manufactured tanks that can be ordered on-demand as needed, further leveling the playing field.
Comparing Costs, Time-frames
It is important to note that while the initial price tag for a used storage tank is generally considerably lower than the cost of a newly manufactured tank, used tank price does not typically reflect final cost.
Used tanks generally require inspection to verify structural integrity and determine life expectancy. Depending on condition, used tanks may also require sand blasting, primer and painting to meet a customer's coating specification. And depending on intended use, tank nozzle sizes may need modification to suit related processes and flow rates. These costs add up!
Other tank updates may also be called for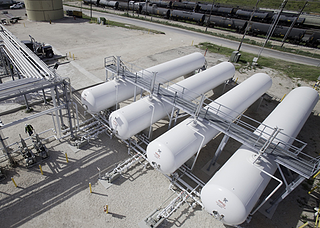 depending on application. For example, a large storage terminal may require that multiple tanks be joined together to facilitate liquid flow between them. In this scenario, all tank inlet sizes will need to be of uniform size to maintain equable fluid flow. If used tanks are employed it is more than likely that, while multiple same-size used tanks may be found for the project, tank inlets will need to be updated in order to make all tanks match.
It may also be that used tanks identified for this project are found at multiple rather than a single location—and this translates to varying freight costs and inconsistent arrival times on site.
On the other hand, if new tanks are used for this project, multiple tanks can be easily ordered, all in matching sizes, all with matching characteristics—and all arriving at one time.
So How to Choose?
Ultimately, choosing between used and new storage tanks is best determined by first evaluating storage tank needs and then assessing used tank availability and locations, transport and upgrade costs, and potential delivery time-frames. This can then be compared to new tank purchase scenarios, including related costs and timeframes, and the best decision can be reached to meet project needs, schedules, and budget.
A qualified industrial NGL/LPG contractor can provide cost and schedule scenarios to help decision-makers understand options and make the best decision for projects at hand.
TransTech Energy brings more than 50 years of experience to bear on helping project managers meet their NGL and LPG storage needs.
Today we're able to offer the ultimate flexibility with inventory of both used and newly manufactured NGL and LPG storage tanks, available for immediate delivery. We also offer custom fabricated tanks, manufactured to the highest quality standards and constructed in full accordance with the latest edition of the ASME Code.
Whether you're building a new storage plant/terminal or adding storage for natural gas processing, upgrading your existing terminal storage capacity or purchasing a tank to modify for processing requirements, our storage experts will work with you to make the right decision for your needs.
Contact us today at (252) 446-4357 to discuss your storage tank needs!
View our Used Tank Inventory here.