NGLs Increasingly the Target of Exploration
Long considered a by-product of natural gas drilling, natural gas liquids (NGLs) have become a driver of U.S. natural gas exploration and production growth. NGLs, the hydrocarbons extracted when natural gas is processed, predominantly consist of ethane, propane (LPG), butanes and pentane—so called 'purity products' when separated—all of which are valuable inputs for numerous industrial activities, including petrochemical manufacturing, power generation and fuel blending.
NGL purity products, and particularly normal butane, isobutane, and natural gasoline, all compete to some extent with crude oil and it's derivatives. As such, high crude oil prices tend to positively impact the value of NGLs.
Under current market conditions NGLs are selling at a notable premium over natural gas according to the U.S. Energy Information Administration (EIA), making them a significant source of revenue for gas producers. NGL revenues have proven to be particularly important to shale gas development in offsetting high shale well drilling costs and in fact have become a key factor in supporting the ongoing shale boom.
NGL Output Soars
As the focus on NGLs has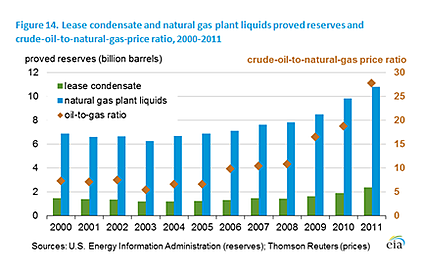 grown, output has followed suit. In 2010, U.S. NGL production set a new record at 2 million barrels per day from approximately 1.5 million barrels a day ten years prior according to EIA. And with growth continuing to accelerate, U.S. output is expected to surpass 3 million barrels per day as early as 2016.
As gas producers have turned their attention towards liquids-rich shale gas plays and taken advantage of new horizontal drilling techniques, proved reserves of natural gas liquids have far surpassed expectations. In fact, as reported by EIA in its 2013 Energy Outlook, supporting the growing appetite for NGLs is a near two-fold increase in estimated overall technically recoverable U.S. natural gas resources.
And with EIA predicting a high crude to natural gas price ratio well into 2040, there will continue to be an economic incentive for operators to actively steer natural gas exploration and development towards reserves with potentially high liquids (NGL) content into the coming decades.
NGL Pipeline Infrastructure Needed
Hand-in-hand with growing NGL production is a mounting need for related pipeline infrastructure, both in moving NGLs to fractionation facilities where purity products can be separated, and then in transporting end-products to associated markets.
The Interstate Natural Gas Association of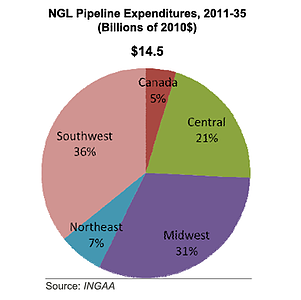 America (INGAA) predicts new midstream pipeline capacity to accommodate an additional 2 million barrels per day will be called for in order to support the transportation of growing NGL production over the next 25 years. This translates to approximately 500 miles of new NGL transmission pipeline per year through 2035—at an average cost of $600 million per year—in order to fulfill expected NGL transportation needs according to INGAA.
But NGL production growth can't wait and distribution and processing constraints are already straining the market, with bottlenecks in pipeline as well as fractionation and terminal capacity becoming apparent. And with pipeline infrastructure development subject to a host of factors including federal and state regulatory requirements as well as environmental concerns, local opposition, and other obstacles, new pipeline development timelines can extend 18-24 months or more.
In the mean time, alternative modes of transportation including truck and rail shipping are being utilized.
Pressurized Tank Truck & Rail Car Vessel Transportation, Terminal Demand Climbs
Truck and rail transportation of NGLs offers immediate relief to pipeline bottlenecks and provides access to landlocked areas—and demand for NGL truck and rail terminals and related storage facilities has been climbing at a fast clip.
"We've seen a significant spike in NGL and LPG truck and rail terminal demand in response to the remarkable jump in NGL production," said Mark Wenik, Director of Technical Sales, TransTech Energy, "With pipeline capacity lagging, demand for truck and rail transportation offers an immediate, interim work-around and in some cases a long-term solution, that effectively gets NGLs where they need to go—and fast."
Truck and rail terminals are critical components in supporting the NGL & LPG delivery chain, providing unloading facilities to receive NGLs from one source (rail, truck, pipeline or marine) and reloading capabilities for moving products to the next carrier. Also providing interim storage to help maintain throughput and accommodate supply and demand cycles, NGL & LPG storage facilities can be found throughout the NGL delivery chain.
The movement and storage of mixed NGLs as well as refined NGL purity products requires pressurization to maintain their liquid states. Pressurization significantly reduces NGLs' natural gaseous volumes—as much as 250 times or more—and makes transportation and storage economical and efficient. Pressurization must be maintained throughout the delivery chain, from truck or rail car to intermediary storage facilities, both prior to and following fractionation and other processing.
TransTech Energy's in-house design, engineering and construction team has the expertise and experience to deliver world-class pressurized systems for end-to-end NGL and LPG transportation terminal and storage needs, including turnkey design/build solutions for NGL and LPG truck, rail and marine terminals, NGL and LPG truck and rail loading and unloading skids, pumping and metering solutions, and more.
Call (888) 206-4563 to speak with one of our NGL & LPG truck and rail terminal experts or learn more about our NGL & LPG truck and rail terminal solutions here.