TransTech Energy is excited to be the first company in the U.S. to convert the 2010 Truck of the Year, Ford Transit Connect, into an Autogas Hybrid. The TransTech Ford Transit Connect is a LPG Bi-fuel vehicle that runs on both gasoline and liquid autogas (automotive propane). As many vehicle fleets are looking to more fuel efficient vehicles, the Ford Transit Connect has been a very popular choice with it's already fuel efficient 2.0L inline four cylinder engine .
Working in close conjunction with the Liquid Propane Injection Industry leader, ICOM North America, TransTech Energy has successfully integrated ICOM's OEM proven Liquid Propane Injection system into the Ford Transit Connect Platform. David Kennedy, Director of TransTech's Alternative Fuel Division points out, "We are bringing an OEM approach to the aftermarket bi-fuel conversion industry- no longer are Universal Kits with poor vehicle integration a fleet's only option."
TransTech provides vehicle specific Autogas Hybrid conversions for the Ford Transit Connect and most all major fleet vehicles. Kennedy added, "Liquid Propane Injection in a bi-fuel capacity is going to completely change the face of Automotive Propane. Our LPG Transit Connect starts up on gasoline and automatically switches to autogas. Should the vehicle run out autogas it switches automatically back to gasoline, seamlessly, allowing for an extended driving."
TransTech boasts the LPG Transit Connect maintains OEM performance and functionality, providing the following features:
OEM Liquid Propane Injectors
Tank design exclusively for the Transit Connect, (No Loss of Cargo Space!)
OEM style refueling on the side of the vehicle.
All functions of the Factory ECU are retained during Autogas operation, As well as the Factory Diagnostics.
OEM Factory fit and finish as well as operation and performance.
The Ford Transit Connect is perfectly suited for taxi services, utility and delivery fleets. Adding the Autogas Bi-fuel capability makes this vehicle one of the most exciting "green vehicles" on the market today.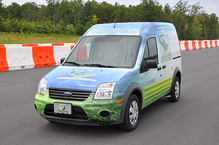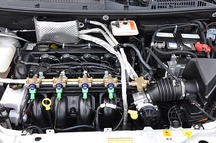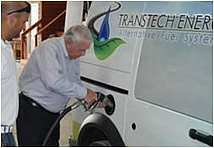 To learn more about the LPG Ford Transit Connect or other Autogas Fleet Vehicle conversions, contact TransTech Energy at 888.206.4563 or visit www.transtechenergy.com