SNG Standby Systems Demand Up

As the shale gas revolution continues to drive record levels of natural gas production, a growing number of power producers and industrial users alike are making the move to natural gas as a primary fuel source. Attractive for both new generating capacity and as a replacement for capacity formerly supported by other fuels, natural gas is seen as both a cost-cutting measure and as a way to prepare for existing and up-and-coming, more stringent carbon emissions regulations.
Buoyed by confidence in both continuing availability and lower cost of natural gas compared to other fuels, those making the switch point to the growing case for both near- and long-term benefits.
Domestic Natural Gas Production Grows Steadily to 2040
By all measures, the level of U.S.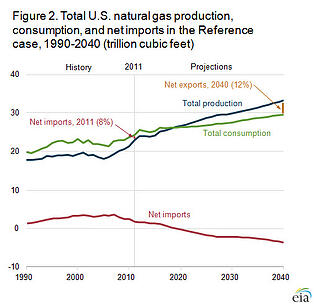 natural gas output today has exceeded even the most optimistic projections—and is expected to continue growing at a steady pace.
Indeed, the U.S. Energy Information Administration (EIA) estimates natural gas production will increase 1.3 percent per year to 2040, outpacing domestic consumption by 2019 when the U.S. is expected to become a net exporter of natural gas. Cumulatively, this amounts to an overall 56% increase in production between 2012 and 2040, when total natural gas production is expected to reach a whopping 37.6 trillion cubic feet according to EIA.
Drilling Efficiency 'Key Driver' of Natural Gas Production
In addition to the sheer abundance of U.S. shale gas reserves, the continuing strides being made to gas production processes also support robust production.
While it is commonly understood that the new availability of natural gas is in large part due to the ability to access previously untapped stores of shale gas by leveraging modern horizontal drilling and hydraulic fracturing ('fracking') techniques, it is not as well known that ongoing innovation in drilling efficiency is continuing to improve the pace of production.
In fact, according to EIA, recent improvements in drilling efficiency have been so significant as to degrade traditional methods of production estimation, which until now were routinely based on rig counts.
EIA points to steadily increasing productivity of gas wells in basins across the United States as a result of both the improved efficiency and the precision of horizontal drilling and fracking methods. As an example, data collected at the Marcellus Shale shows that a well completed by a rig in April 2014 will contribute over 6 million cubic feet (Mcf/d) of natural gas more—per day—than a well completed by that same rig in that formation just 7 years ago.
The trend of increasing productivity is an important factor supporting the overall increase in the nation's natural gas output, not to be overlooked.
Natural Gas Prices to Remain Relatively Low
Not surprisingly, among the most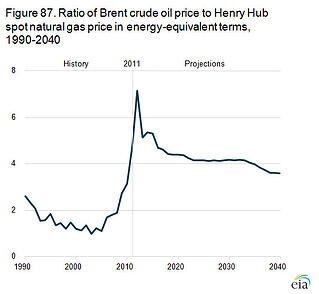 compelling reasons for converting to natural gas are the potentially significant cost savings the fuel can deliver. Since the onset of the shale boom, U.S. natural gas prices have remained significantly lower than in prior recent years. And with the abundance of domestic supply in addition to improved production methods, prices have continued to remain relatively low.
While EIA predicts prices will increase over time as natural gas resources from more easily accessible production areas are drained, prices are still expected to remain at historically low levels for years to come—and energy from natural gas is projected to remain less expensive than energy from oil through 2040.
Coal Becoming Less Competitive
Along with crude, coal too faces an expected decline in use as fuel for power generation. While coal has historically been a lower cost fuel, EIA projects average coal price increases of 1.4 percent per year through 2040, as coal mining activity inevitably migrates into more challenging—and costly—reserve areas.
Add to this the efficiency of modern gas fueled power generation which is considerably higher than coal fired generation and the result is that gas competes with coal even when it costs considerably more. "When the ratio of natural gas prices to coal prices is approximately 1.5 or lower, a typical natural gas-fired combined-cycle plant has lower generating costs than a typical coal-fired plant," according to EIA.
Further to this, coal faces growing regulatory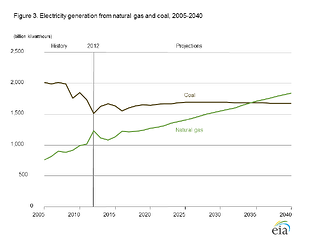 constraints as environmental regulations call for costly equipment retrofits to meet more stringent emissions demands. In 2012, Coal accounted for 18% of U.S. energy consumption by fuel type and 31% of energy related carbon dioxide emissions, according to EIA. Coal emits nearly double the CO2 as natural gas.
EIA estimates 15 percent of the coal-fired capacity active in 2011 will be retired by 2040. During this same time-frame, only 4 percent of new generating capacity will be coal-fired.
Natural gas-fired generation is expected to overtake coal-fired generation in 2019, and by 2040 the natural gas share of total generation is projected to reach 43%. Coal's share of total U.S. generation is predicted to drop from 42 percent in 2011 to 38 percent in 2025 and 35 percent in 2040, according to EIA.
Synthetic Natural Gas Standby Fuel Systems Demand Up
For many of those making the switch to natural gas, a 'standby' or backup fuel system is essential for ensuring steady operations—both to supplement a potentially unpredictable fuel supply or in cases where there is risk of supply interruption.
Synthetic natural gas (SNG), also called propane-air or liquefied petroleum gas air (LPG-air), is an ideal backup fuel solution for those using natural gas. Created by blending vaporized LPG with compressed air, SNG has virtually the same characteristics as natural gas and can readily replace natural gas in most cases—with virtually no change to existing equipment.
SNG standby systems deliver an economically desirable, reliable, and environmentally friendly energy source that seamlessly replaces or supplements natural gas as needed. And as more and more utilities and industrial users make the move to natural gas, stand by systems powered by SNG are gaining similar attention.
Said Sandy Cates, Director of LPG Solutions, TransTech Energy "The demand for standby systems fueled by SNG is an obvious choice for anyone burning natural gas for power generation—and our deliveries of these systems has spiked ever since the shale opportunity took hold."
Added Cates, "It's a logical move. The ease of transition from natural gas to SNG, when needed, speaks for itself. It's a truly seamless solution."
TansTech Energy designs SNG/propane air stand-by systems for government, utility, municipal, manufacturing and industrial applications. We offer custom engineered and turnkey solutions for those who have the need to instantaneously and temporarily replace or limit their primary natural gas supply consumption. Our synthetic natural gas stand-by systems provide a continuous fuel supply, allowing our customers to maintain fully functional operations while delivering flexibility, cost savings, and risk reduction.