Islands and Other Remote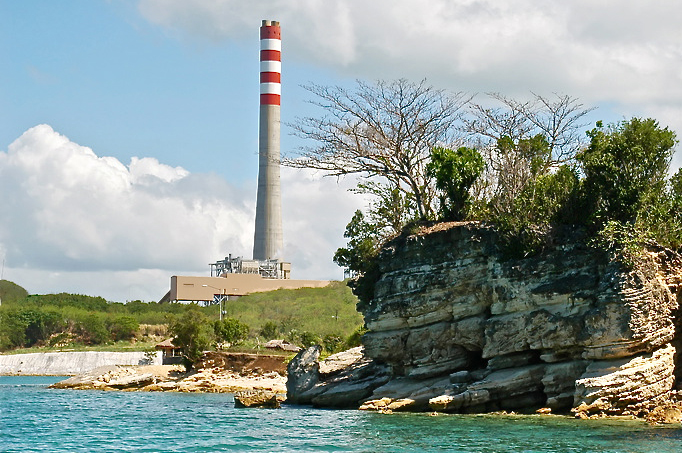 Locations Benefitting
A new interest in distributed power generation (DG) is sweeping Latin America and the Caribbean with governments and business leaders alike seeking to cut fuel costs and boost growth with new energy models.
Historically, Caribbean islands and other Latin American regions have relied heavily on centrally located electrical power generation fueled by diesel, heavy fuel oil and other distillates. In many cases lacking their own energy resources, islands have been net importers of energy, making them particularly vulnerable to the volatility of crude oil markets. Most notably in recent years, the skyrocketing cost of petroleum has strained both competitiveness and economic growth in these regions.
As decision makers have sought ways to address fuel costs, distributed power generation has surfaced as a means to not only mitigate electricity expense, but also as an opportunity to simultaneously address green house gas emissions (GHG) concerns—and provide a host of other potential benefits.
Distributed Power Generation Defined
While the definition of distributed power generation can vary, it generally refers to power generation that is located on the customer side of the power meter, 'on site' or in close vicinity to the load it will serve—as opposed to at the large scale operations of utility plants connected to a transmission grid.
Distributed generators may be owned and provided by utilities or they may be owned and installed by municipalities or business enterprises. In many cases, distributed energy generators may be connected to the grid - indeed in some instances surplus power generated at distributed power sources may even be sold back to the grid. But this is not always the case. Distributed power that is not grid-connected is also referred to as dispersed power generation or dispersed generation.
Benefits of Distributed Generation
In addition to potential cost reduction, and greenhouse gas emissions (GHG) reduction achievable at sites utilizing cleaner fuel sources, other benefits of distributed generation include increased energy security—any disruption at central utilities will have little to no impact for sites generating their own power—and overall increased energy availability, particularly for remote sites which may be entirely outside the vicinity of grid transmission lines.
DG also has the attention of decision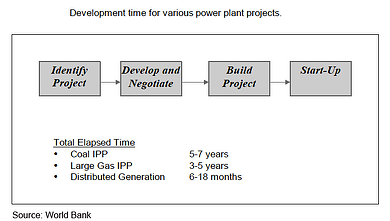 makers for the relative speed at which it can be implemented. Compared to time-frames required of large scale utility plant project execution, distributed power generation facilities take only a fraction of that time to install. And while large-scale utilities tend to be 'over built' with future capacity needs in mind, distributed power generation offers the ability to quickly and easily add power generators to accommodate growing demand—as needed.
Another striking difference between standard centrally located power generation and DG is the overall efficiency of electricity generation. For typical large-scale utility plants, as little as 28-35% of fuel burned is actually converted into useful electric power according to World Bank data. Meanwhile distributed power generation offers as much as 50% or more efficiency. This is in part due to the power loss associated with grid transmission and distribution – as much as 7% or more according to the U.S. Energy Information Administration (EIA). But with on-site DG facilities, transmission and distribution are a moot point.
While distributed generation is not a new concept, it has not always offered a cost-effective alternative to central utilities and at times has been stymied by regulatory and other obstacles. But today's proliferation of new and emerging technologies including fuel cells and micro turbines; solar, wind and hydro power advances along with the growing call to reduce GHG emissions are all opening new doors for DG to thrive.
LPG Fueled Base-Load and Combined Heat & Power (CHP) Systems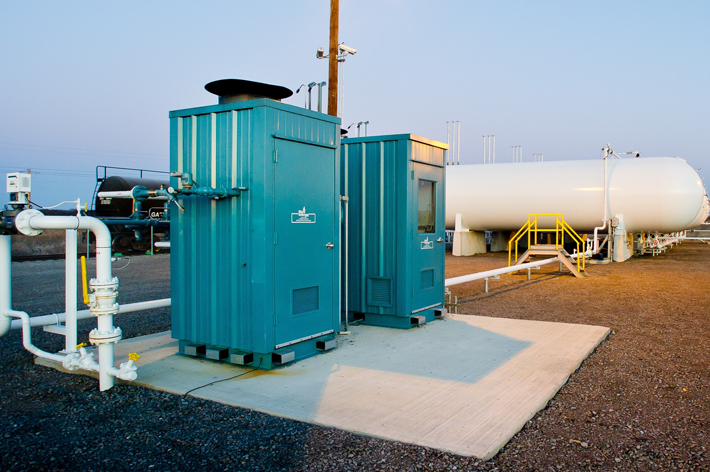 Also garnering growing attention is the new abundance of low cost, clean burning propane as a fuel for distributed power generators. When vaporized and mixed with air, propane becomes synthetic natural gas (SNG, also called propane-air), which has effectively the same combustion characteristics as natural gas—and can be burned in its place, using the same burners and equipment.
And because propane can be easily compressed and efficiently transported as a liquid (liquefied petroleum gas or LPG) via marine, truck or rail, in contrast to the significant infrastructure demands associated with natural gas, its use can be readily implemented—at virtually any location.
As such, SNG powered base-load systems are often deployed in developing natural gas (NG) markets—prior to the arrival of NG—where SNG is used as a 'bridge fuel' in advance of natural gas availability, but can also be used to supply full base load power to users in remote and rural locations where natural gas (NG) is entirely unavailable due to a lack of infrastructure and/or in regions that fall outside the vicinity of power grids.
Combined Heat and Power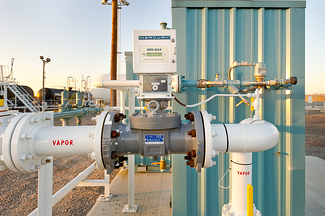 Of even greater interest as a distributed generation solution is the use of combined heat andpower (CHP) systems, which simultaneously generate electric power and thermal energy at once, rather than electric power alone.
CHP, also called cogeneration, achieves this by capturing the 'waste heat' normally lost in conventional power generation processes, allowing it to be leveraged as useful thermal energy for both heating or cooling purposes. That is, rather than purchasing electricity from the grid (when available) and generating heat with a separate furnace, a CHP generator delivers both of these outputs in one efficient step. CHP systems deliver up to 80% efficiency according to EIA, far outshining grid-generated power.
78% Cost Reduction Per kwh for One Manufacturer
"We recently installed an LPG powered CHP system at the Caribbean plant of a global beverage manufacturer. By converting from conventional utility and diesel powered steam generation to the new LPG fueled CHP system, we were able to reduce the company's energy costs from 55¢ per kwh for electricity and $38 per thousand pounds of steam to less than 12¢ per kW and $28 per thousand pounds of steam," said Shack Hawkins, Director, Polaris Engineering, Inc.
Noted Hawkins, "The return on investment for large operations can arrive as quickly as 14 to 24 months. We were able to execute the entire project in less than 12 months—and TransTech Energy was instrumental in helping us achieve that schedule by delivering the necessary LPG storage tanks and equipment within a very tight timeframe."
Natural gas fueled CHP systems are gaining attention as the cost of natural gas has remained low in the midst of the shale gas boom. With prices expected to remain low well into 2040, more decision makers are placing their bets on potential savings that can CHP systems can deliver. And like natural gas powered base-load systems, NG fueled CHP generators in remote locations or regions awaiting the arrival of NG can utilize SNG for fuel, making them highly versatile on all fronts.
"We are continuing to invest in the Caribbean and Latin America DG markets as we are seeing a significant increase in the demand for LPG terminal storage and LPG gasification equipment to fuel these power generation applications," said Greg Ezzell, Director of Business Development, TransTech Energy.
Added Ezzell, "With the significant savings potential and short term ROI for LPG power generation and industrial fuel conversion projects, time is money and delivering solutions in short lead times is critical to our customers."
TransTech Energy supplies complete LPG storage and transfer solutions to support LPG and SNG-fueled base-load and CHP systems.
Bulk LPG storage provides an ideal solution for supporting high levels of LPG consumption. LPG storage tanks are available in an array of sizes up to 120,000 gallons.
TransTech Energy also offers custom engineered and turn-key solutions and services for LPG storage and gasification, including new and used LPG storage tanks; custom vessel specification, design and fabrication; LPG vaporization and blending systems, bulk plant and terminal design, engineering and construction; logistics coordination; field services including installation and training; maintenance, startup and commissioning services.
Contact us to speak with one of our propane storage experts: 888-206-4563
Polaris Engineering is a full service engineering firm, serving the refining and petrochemical industries around the world. With core expertise in process engineering consulting, Polaris offers complete project development and project management services and is known for its innovative and cost effective process solutions to operating and debottlenecking challenges. Learn more about Polaris Engineering here.