As today's advanced horizontal drilling methods combined with the decades old practice of hydraulic fracturing continue to unlock unprecedented shale gas opportunities across North America, NGL extraction and fractionation activities are growing in near lock-step pace with natural gas production at record-breaking levels projected to continue into the coming decades.
The race to tap new opportunities and generate ROI quickly has caused a notable spike in demand for portable storage and transfer solutions for Y-Grade natural gas liquids (NGLs) and separated NGL purity products. Portable, skid-mounted storage systems or 'Porta-Pacs' and skid-mounted transfer solutions, which can be quickly and easily implemented, offer producers, fractionation plant operators and others fast, effective solutions that ameliorate the typically long wait associated with the build-out of more permanent storage and transfer infrastructure.
Portable Storage
Ideal for smaller production sites or sites where production capacity is erratic or uncertain, as well as for temporary sites where plant relocation may be on the horizon, portable storage systems can be rapidly deployed and easily relocated as needed, offering interim storage while more permanent infrastructure is built or providing a temporary solution where a permanent one may not make sense.
Rapidly gaining popularity, portable storage systems not only help producers and operators get their products to market more quickly—and realize returns sooner—but can also significantly lower costs when a permanent solution may simply not be needed and/or can add to revenues when having a storage solution sooner prevents flaring of valuable NGLs that could readily be sold for profitRental and lease options for portable solutions are also often available, providing further cost-savings opportunities, particularly for shorter-term or uncertain time-frames.
Porta-Pacs & Skid Mounted Tank Systems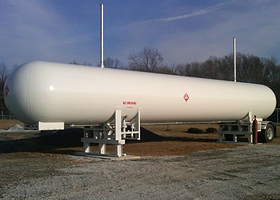 Porta-Pac systems are compact portable storage units that typically incorporate a pressurized storage tank within a frame equipped with single or dual axle tire system and kingpin for connecting to a heavy tractor trailer.
Key features generally include steel saddle supports that can be lowered for operation and raised for storage during transport. Built-in bulkhead allows for both loading/unloading and bobtail operations.
Porta-Pacs can support both self-loading and transflow operations and the use of a mobile compressor unit can also be incorporated. Full code compliance including a breakaway system that automatically shuts down product flow in the event of a pull-away, ensures optimal operational safety. Standard Porta-Pac tank sizes range from 7,500 to 18,000 gallons.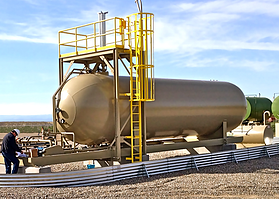 Skid mounted storage tank systems generally provide more generous tank sizes (to 30,000 gallons) and are highly customizable.
Like Porta-Pacs, skid mounted tank systems are typically equipped with bulkhead for both transport/bobtail operations, but can also be outfitted with features such as an integrated liquid pump, electronic controls and metering—and ultimately all that is needed to create a fully operational, mobile bulk storage facility.
Skid-Mounted NGL Transfer and Pump Skids
Fitted with the pre-piped valving, instrumentation, metering, explosion proof electrical connections and optional pumps or compressors, modular transfer and pump skids are primarily used for loading and unloading of NGL and purity products including propane (LPG), butane and other liquids from storage tanks to transports and then from transports to storage tanks at other locations or to pipeline or rail.
Prefabricated skids are generally available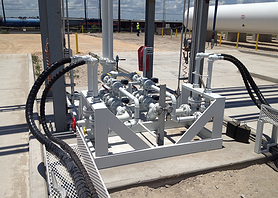 with standard/stock options or can be custom designed to accommodate specific requirements such as storage capacity, valving and flow rates, measurement systems with metering and ticketing for inventory or custody transfer needs, as well as other features that may be needed to support particular applications.
Skid-mounted liquid transfer units are built to accommodate NFPA 58 and 59 codes and similar to portable storage solutions, can be deployed far more quickly than more permanent liquids transfer infrastructure, making them an ideal interim solution while more permanent installations are built or short-term solution for a site that may have changing or limited needs.
TransTech Energy provides end-to-end NGL and LPG storage and transfer solutions from portable and fast-ship, skid-mounted offerings to turnkey design/build solutions for NGL & LPG storage plants, truck and rail terminals.
We have served the energy market for more than 50 years and our NGL/LPG experts can help you determine the best solution to suit your needs. Speak with one of our experts today at (252) 446-4357 to discuss your portable storage and transfer needs!
Learn about our portable NGL & LPG storage tank systems here.
Learn about our skid-mounted NGL & LPG pump skids here.
Learn about our NGL & LPG plant & terminal engineering and construction services here.