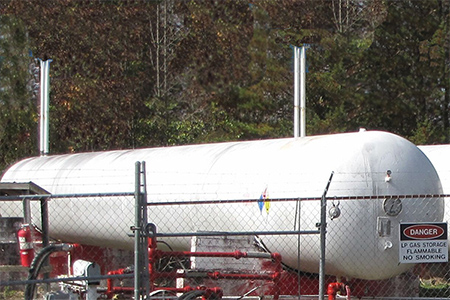 14,000 Gallon Propane, Butane Storage Tank

SN 67690

NEW & USED STORAGE TANK INVENTORY
TransTech Energy maintains an extensive selection of new and used NGL, LPG/Propane, Butane storage vessels in inventory, available for immediate delivery to your site.
Due to rapid inventory turn-over, please note we often have additional tanks not yet included in our on-line listings. Be sure to contact us if you do not see the tank you need.
In addition to the 14,000 gallon propane, butane storage tank shown here, we also offer an array of additional sizes of new and used storage tanks from 6,000 gallons to 120,000 gallons - in addition to a complete inventory of newly fabricated storage vessels - year-round.
CUSTOM VESSEL FABRICATION
In addition to our new and used storage tank inventory, custom storage tank fabrication - with short lead times - is also available. We can design, engineer, fabricate and build your vessel to your exact specifications as well as test, deliver and install your vessel on-site.
Process vessel fabrication and storage and process vessel R-Stamp modification services are also available to ensure all your specific project needs are met—including fabrication of multiple, identical vessels as well as underground storage options.
OPTIONS & EQUIPMENT
We also offer the most comprehensive array of related equipment including LPG pumps, compressors, valving and instrumentation, liquids transfer and metering systems, vaporizers, blending systems and much more.
DELIVERY & INSTALLATION
Let us handle all the details of preparing, loading, shipping, and installing all your tanks and equipment for you—or your complete plant or terminal. Backed by over six decades of experience, our field service professionals will complete your installation efficiently and economically—and to the highest safety standards.
BULK PLANT & TERMINAL REFURBISHING & REPAIR
TransTech Energy also offers bulk plant and terminal refurbishing, maintenance and repair, and plant dismantling services - and is a leader in dismantling and acquisition of bulk propane storage plants, LPG storage facilities and propane-air standby and peak shaving facilities.
CONTACT US
Call us today at: 888-206-4563 to learn more about our available 14,000 gallon propane, butane storage tanks and let us know how we can help with your next project.