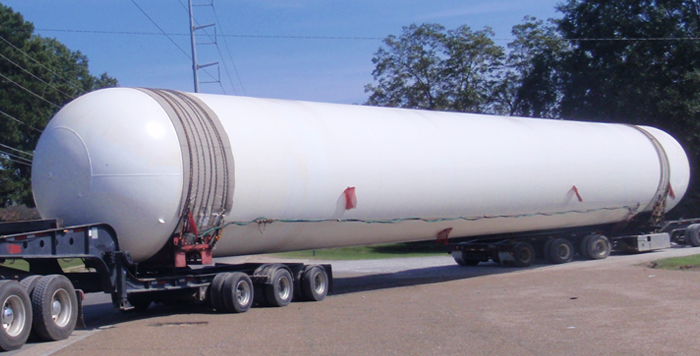 New 60,000 Gallon NGL/LPG Pressure Vessels for Sale
Standard size 60,000 gallon NGL/LPG pressure vessels are in stock and available for immediate delivery to serve your bulk LPG & NGL storage plant & bulk LPG transfer terminal needs. All our LPG/NGL storage tanks can be purchased individually or in multiples, and both aboveground and underground tanks are available to suit all your storage needs.
60,000 gallon NGL/LPG/Propane tank features include:
Standard operating pressure and temperature: 250 PSI @ 125° F
Standard materials SA612, SA516-70
Optional low profile welded steel saddles
Standard nozzle configurations
Valves and fittings available
Standard coating: Sherwin Williams Macropoxy 646 epoxy primer
Standard trim, precast foundations and installation kits available
Coordination of freight and unloading logistics
View Our Current Inventory of New 60,000 NGL & LPG Storage Tanks:

Custom LPG Storage Tank Design & Fabrication Services are also available to meet your exact needs and specifications. NGL/LPG bullets up to 120,000-gallon capacity readily designed, manufactured, delivered and installed.
Used NGL/LPG bullet and bulk propane storage tanks are also available. View our current inventory of used NGL/LPG storage tanks here.
Please email us at sales@transtechenergy.com or call us at 888-206-4563 to discuss your NGL/LPG storage needs.
Explore Our Related Services: