Joe -

Director of Corporate Development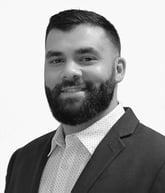 Joe is responsible for the business development and commercial operations of TransTech's industrial fabrication division, Bendel Tank and Heat Exchanger. His primary focus is identifying new industrial market opportunities to grow Bendel as diversifying the company's market contributions from our facilities in Rocky Mount, Texas and Charlotte.
Joe brings over 12 years of industry experience to TransTech, including experience serving both service providers and end users. With a background that includes Supply Chain, Finance, and Sales, Joe brings a unique perspective to his role.

Prior to joining TransTech in 2019, Joe worked in commercial roles revolving around fabricated equipment for 8 years. Joe has a Bachelor's degree in Finance from Mercyhurst University and Erie, PA and a Master's Degree in Business from Oklahoma City University.



Send email