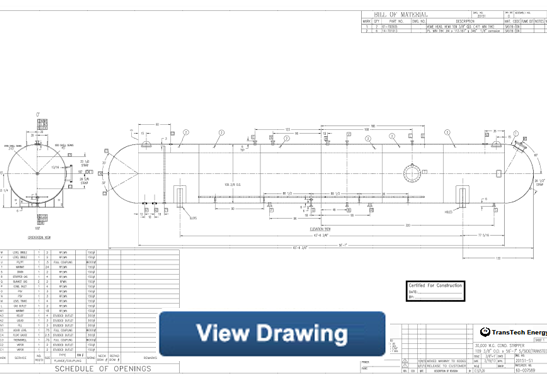 Sample Project
TransTech Energy is an industry leader lpg & ngl storage and process vessel solutions, backed by over 50 years of experience serving energy markets.
We deliver top-quality condensate strippers that effectively remove and separate methane, ethane, propane and H2S from condensate during natural gas production, across a wide range of operating conditions.
Our experienced team of engineering and fabrication professionals will deliver your process vessel to your exact specifications, within the shortest possible lead time and best possible price.
Available Features & Benefits
Large in-stock inventory yields short lead times and fast delivery
Custom configured in a wide array of sizes and pressure ratings to suit your operating conditions
Fully ASME compliant to ensure top performance and safety – code stamped and National Board registered
Top quality manufacturing for long operational life
Level bridle
Drain
Gas outlet
Relief valve
Fill level guage
Float guage
Thermowell
Vapor outlet
Access manways